---
Do I need prior experience or training to become a firefighter?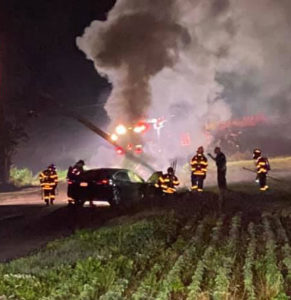 No experience is necessary to join the South Lebanon Fire Department. We provide everything you need to succeed as a certified firefighter, including training, classes, equipment and gear at no cost to you.
Will I get paid?
No, volunteers do not receive financial compensation; however, the training and experience can help you advance in other areas of your life, including leadership skills or protective services training. Volunteers also have the satisfaction of helping their friends, family and neighbors in the South Lebanon Township community and surrounding areas.
How much time do I need to spend each week as a volunteer?
Volunteers are only asked to give as much time as they can. Active firefighters participate in regular training sessions and the volume of calls varies from day to day.

Is there a firefighting program for teenagers?
Yes, our Cadet Firefighter program is for teenagers who are 16 or 17. Although cadets cannot enter burning buildings, they can assist and support firefighters on the scene by running hoses and they also participate in training. In addition the Cornwall Lebanon School District allows cadet firefighters to use their service toward their senior project. Many cadet firefighters go on to become active firefighters when they turn 18.
Can I volunteer without fighting fires?
Yes, you can! We are seeking Contributing Members to help with administrative duties and and assist with other tasks like fundraisers and community events. Your talents are needed!
We are also seeking Drivers, who transport firefighters and equipment safely to the locations of fires and other emergencies. Drivers are an important part of our team.
How do I learn more and how do I know which fire company is in my area?
Just fill out the inquiry form, including your address and we will contact you to answer your questions and offer you a tour of the nearest firehouse.
---